When to use this connector
Use this connector to create Flows that work with files in Microsoft Azure Storage.
You can also use it to create a Flow that loads data in Snowflake and Azure Synapse Analytics.
Create a Connection
Step 1. In the Connections window, click +, and select Cloud Storage.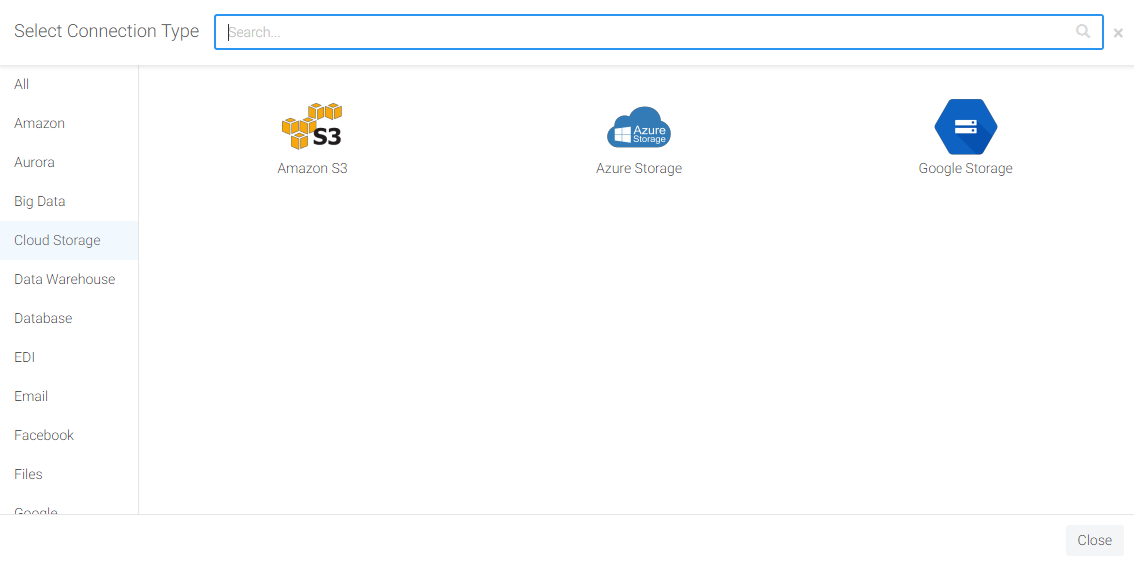 Step 2. Select Azure Storage.
Step 3. Enter Connection parameters
Connection parameters
Endpoint protocol: select either http or https.
Container: the container for files. It is similar to an Amazon S3 bucket.
Directory: the directory under the container. This parameter is optional.
Files: the actual file name or a wildcard file name, for example, *.csv.
Storage account: the storage account name (username).
Access Key: access key (password).
Add Suffix When Creating Files in Transformation: you can select one of the predefined suffixes for the files created, using this Connection. For example, if you select uuid as a suffix and the original file name is dest.csv, Etlworks Integrator will create files with the name dest_uuid.csv, where uuid is a globally unique identifier such as 21EC2020-3AEA-4069-A2DD-08002B30309D.
This parameter works only when the file is created using source-to-destination-transformation. Read how to add a suffix to the files created when copying, moving, renaming, and zipping files.
Enable Wildcard File Name: if there are multiple source files in a folder, you can specify an algorithm which will be used to select the next actual source file to process. For example, if Files is set to *.csv and the oldest is selected, Etlworks Integrator will always select the oldest file in the folder which matches the wildcard *.csv.
Override Wildcard File Name set for Connection: if Wildcard File Names are allowed, then Override Wildcard File Name set for Connection is enabled, and the file name, entered in the FROM field of the transformation is a wildcard file name, the system will override the file name entered at the Connection level. The default behavior is to use the wildcard file name entered when configuring a Connection.
Archive file before copying to: Etlworks Integrator can archive files, using one of the supported algorithms (zip or gzip), before copying them to cloud storage. Since cloud storage is typically a paid service, it can save money and time if you choose to archive files.