When to use this connector
Etlworks Integrator can read and write data in Google Sheets.
Read how to create data integration flows for Google Sheets.
Creating a connection
To work with Google Sheets, you will need to create a connection. In the Connections window, click the + button and type in google sheets in the search field. Select the Google Sheets connection from the gallery.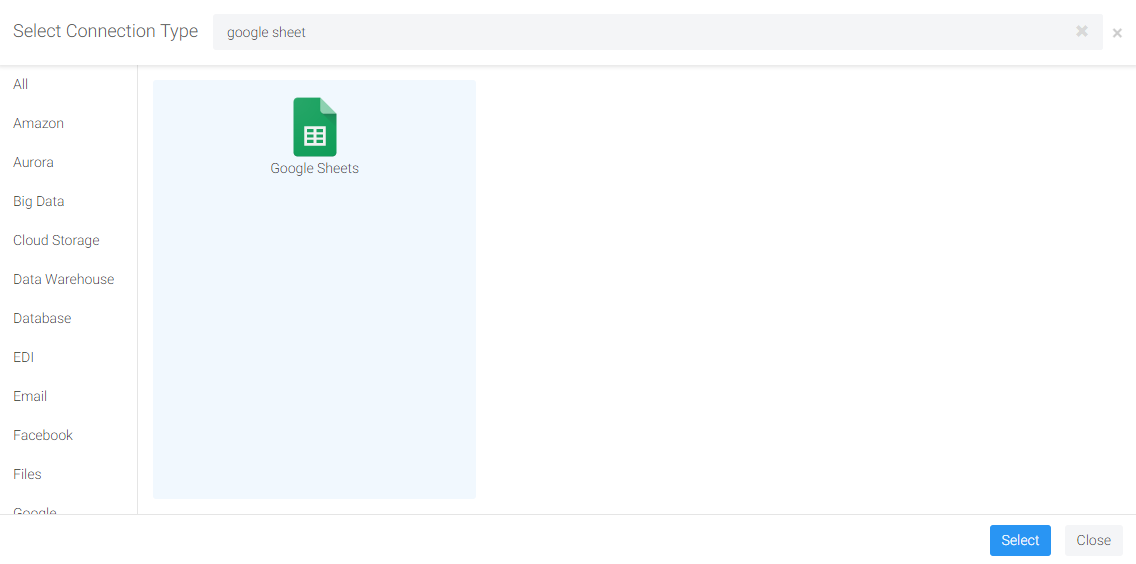 Prior to creating a connection, make sure you understand what a Google Service Account is. You will use either a default service account or you will create a new service account.
Connection parameters
Spreadsheet ID - a unique ID for the spreadsheet. For example, if the URL used to access a spreadsheet looks like the following https://docs.google.com/spreadsheets/d/1Nqi6B1nO6Qtuc6wGXVd3WLKIdApXQ4B-S6r7RAK74AB/edit?ts=5aae75ea#gid=1051122191 the Spreadsheet ID is going to be 1Nqi6B1nO6Qtuc6wGXVd3WLKIdApXQ4B-S6r7RAK74AB.

Worksheet Name or 1-based index - the name of the worksheet or 1-based index of the worksheet. Read how to read from and write into different worksheets using the same connection.
Range - an optional range for the data, for example, A1:E10.
Determine how input data should be interpreted - there are two available options:

RAW - the values the user has entered will not be parsed and will be stored as-is.
USER_ENTERED - the values will be parsed as if the user typed them into the UI. Numbers will stay as numbers, but strings may be converted to numbers, dates, etc. following the same rules that are applied when entering text into a cell via the Google Sheets UI.

Service Account Email - the spreadsheet must be shared with the service account email. The default service account email is etl-framework@api-project-201080624425.iam.gserviceaccount.com.
To share a spreadsheet with a service account email, click the SHARE button, add the service account email to the list and click the Send button.
Service Account - You can create your own service account in the Google API console, authorize it in the Google Analytics Admin and add it to this connection. If nothing is entered in this field the default account, linked to the email etl-framework@api-project-201080624425.iam.gserviceaccount.com will be used.
Column names compatible with SQL - convert column names to SQL compatible column names by removing all characters, except alphanumeric characters and spaces.
Skip empty rows - skip rows with no data.
Treat 'null' as null - if this option is enabled, Etlworks Integrator will parse string values equal to 'null' as actual nulls (no value).
Date and Time Format - a format for timestamps (date+time).
Date Format - a format for date (date only, no time).
Time Format - a format for time (time only, no date).