When to use this connector
Use this connector to create Flows that work with files in Google Cloud Storage.
Creating a Connection
To connect to Google Cloud Storage, you will need to enable the Interoperability API. To enable it, go to Google Cloud console > Storage > Settings > Interoperability > Enable and create an access key pair, which includes an Access Key ID and Secret Access Key.
Step 1. In the Connections window, click +, and select Cloud Storage.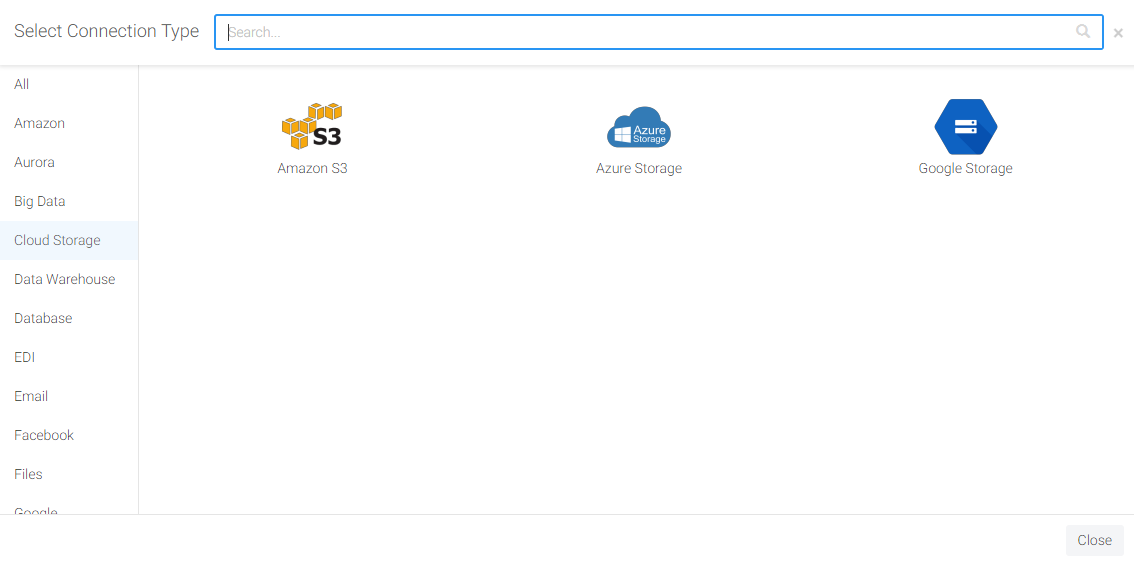 Step 2. Select Google Storage.
Step 3. Enter Connection parameters.
Connection parameters
Endpoint: the web service host. It defaults to storage.googleapis.com.
Bucket: the bucket name.
Directory: the directory under the bucket. This parameter is optional.
Files: the actual file name or a wildcard file name, for example, *.csv.
Headers: optional HTTP headers.
Other parameters:

additional configuration options

for the Google Storage connection.
Access Key: the username.
Secret: password.
Add Suffix When Creating Files in Transformation: you can select one of the predefined suffixes for the files created using this Connection. For example, if you select uuid as a suffix and the original file name is dest.csv, Etlworks Integrator will create files with the name dest_uuid.csv, where uuid is a globally unique identifier such as 21EC2020-3AEA-4069-A2DD-08002B30309D.
This parameter works only when the file is created using source-to-destination-transformation. Read how to add a suffix to the files created when copying, moving, renaming, and zipping files.
Enable Wildcard File Name: if there are multiple source files in a folder, you can specify an algorithm that will be used to select an actual source file to process. For example, if Files is set to *.csv and the oldest is selected, Etlworks Integrator will always select the oldest file in the folder which matches the wildcard *.csv.
Override Wildcard File Name set for Connection: if Wildcard File Namesare allowed, the option to Override Wildcard File Name set for Connection is enabled, and the file name entered in the FROM field of the transformation is a wildcard file name, the system will override the file name entered at the connection level. The default behavior is to use the wildcard file name that was entered when the Connection was configured.
Archive file before copying to: Etlworks Integrator can archive files using one of the supported algorithms (zip or gzip) before copying them to cloud storage. Since cloud storage is typically a paid service, it can save money and time if you choose to archive files.
Contains CDC events:When this parameter is enabled, the Etlworks Integrator adds standard wildcard templates for CDC files to the list of available sources in the FROM selector.