Starter
Business
Enterprise
On-Premise
Add-on
About ActiveMQ
Apache ActiveMQ® is the most popular open-source, multi-protocol, Java-based message broker. It supports industry-standard protocols so users get the benefits of client choices across a broad range of languages and platforms. Read more about ActiveMQ.
When to use this connector
Create a Connection
Step 1. In the Connections window, click +, and type in activemq.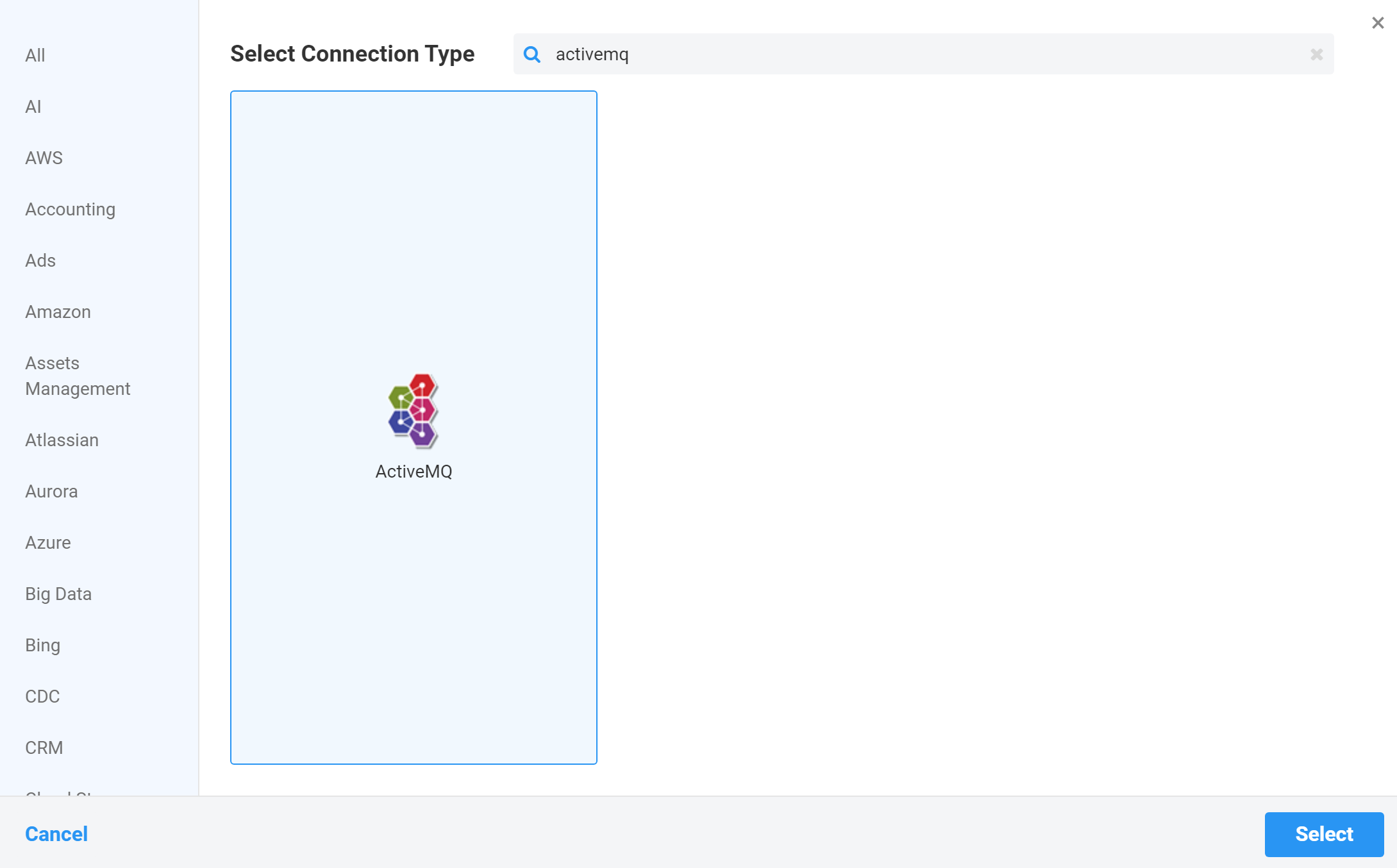 Step 2. Select ActiveMQ.
Step 3. Enter the Connection parameters.
Connection parameters
URL: the connection URL in the format ssl://host:port. For example for ActiveMQ hosted on AWS: ssl://a-c3c415b0-d5e1-4ee6-b8f1-e09d0106f719-1.mq.us-east-1.amazonaws.com:61617.
Queue name: the optional ActiveMQ queue name.
User: the user name.
Password: the password

.

Max number of records to read: the total maximum number of records to read from the queue. Set it to a reasonable number to allow the system to process records in micro-batches. If nothing is entered the system will read records from the queue until there are no more records.
Number of retries before stop polling: the number of retries before stop polling if poll returns no records.
Retry N minutes before stop pollingDelay between retries: the number of minutes to retry before stop polling if the poll returns no records.
Wait to get a next message (ms): the number of milliseconds to wait for a new message in the queue.

Value Serializer

: the type of message to create. Options:

String - the message is a string. Use it for text formats, such as JSNO, XML, etc.
Array of bytes the message is an array of bytes. Use it for binary formats, such as Parquet or Avro.
Object - use it to serialize Java objects.

Other parameters:

additional configuration options

for the ActiveMQ connection.