When to use this connector
Amazon MWS supports the management of seller listings for items to be sold on Amazon.com. Listings can be added, deleted, or modified with Amazon MWS. A variety of specialized feed Formats are supported to meet a wide range of seller needs. Read more about Amazon MWS Feeds API.
Read about working with Amazon MWS API in Etlworks Integrator.
Create a Connection
Step 1. Open the Connections window and click +.
Step 2. Type in amazon mws feed in the Search field.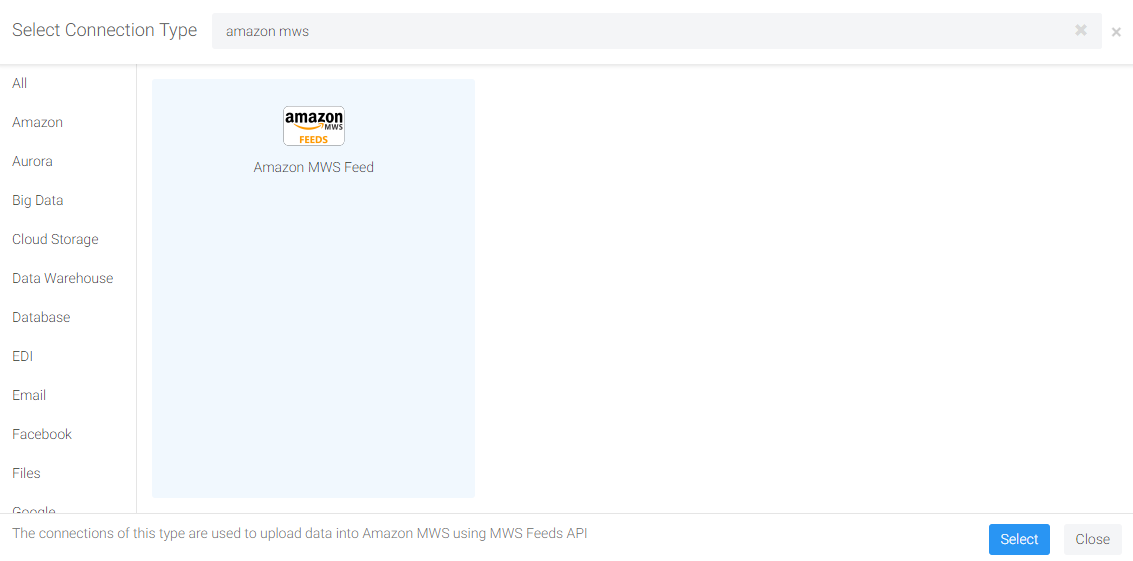 Step 3. Select the Amazon MWS feed Connection and continue by defining the Connection parameters.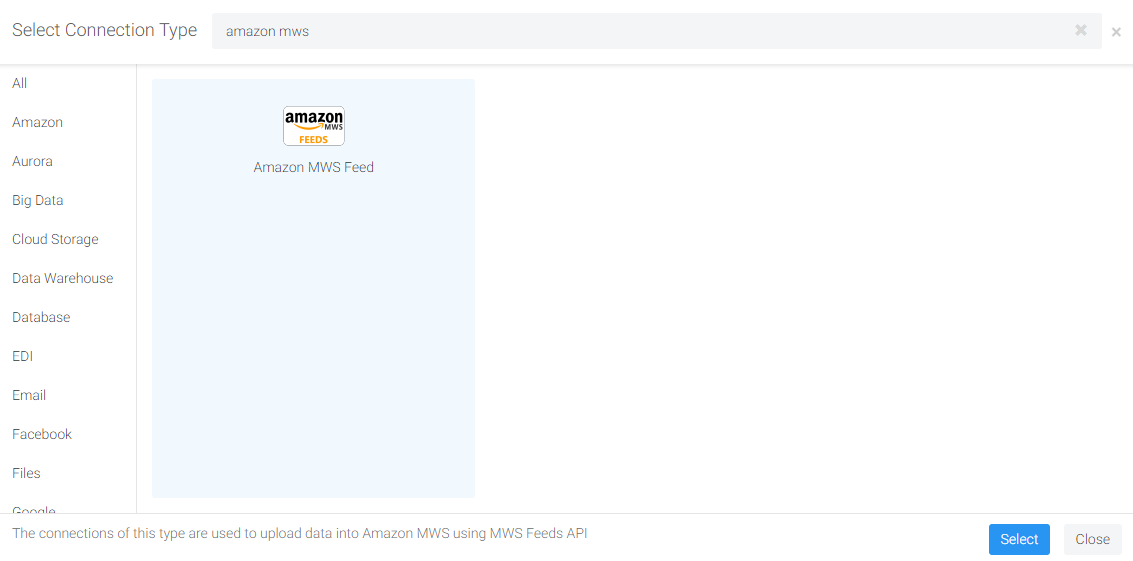 Connection parameters
Marketplaces: comma-separated IDs of the MWS marketplaces.
Feed Type: one of the available feed types.
Feed types with the prefix FLAT FILE require a TAB-delimited payload in the Format supported by the MWS Feeds API. The rest are XML files. Please read Amazon MWS API documentation for more details.
Enable Purge and Replace: if this property is enabled, the entire listing will be purged and replaced with a new one, so please use this with caution!
Seller ID: a unique seller ID assigned by Amazon.
Access Key ID: developer's account AWS Access Key ID (username).
Secret Key: developer's account AWS secret Key (password).
Number of Retries: the number of retries if the HTTP call to Amazon MWS was not successful. The maximum allowed number of retries is 10. The default is 0.
Delay between retries: delay in milliseconds between retries if the HTTP call to Amazon MWS was not successful. The maximum allowed delay is 5 minutes (300000 milliseconds). The default is 0.
Parameters Number of Retries and Delay between retries can be used to overcome the throttling enforced by Amazon.