Startup
Business
Enterprise
On-Premise
Add-on
When to use these Formats
The Etlworks Integrator supports two widely used EDI (electronic data interchange) Formats: X12 and EDIFACT.
Contact Etlworks support to enable the EDI connector for your account.
X12 is a standard for electronic data interchange (EDI) between trading partners over data networks. X12 is developed and maintained by the Accredited Standards Committee (ASC). For more information, see http://www.x12.org.
EDIFACT is an international electronic data interchange standard maintained by the United Nations. For more information, see https://www.edibasics.com/edi-resources/document-standards/edifact/.
The EDI connector in the Etlworks Integrator contains components that convert messages between EDI and XML and vice versa.
Read how to work with EDI messages in the Etlworks Integrator.
Create Format
To create a new EDI Format, go to Connections, select the Formats tab, click Add Format, select the EDI tab, and select either X12 or EDIFACT. You can also just type in x12 or edifact in the Search field.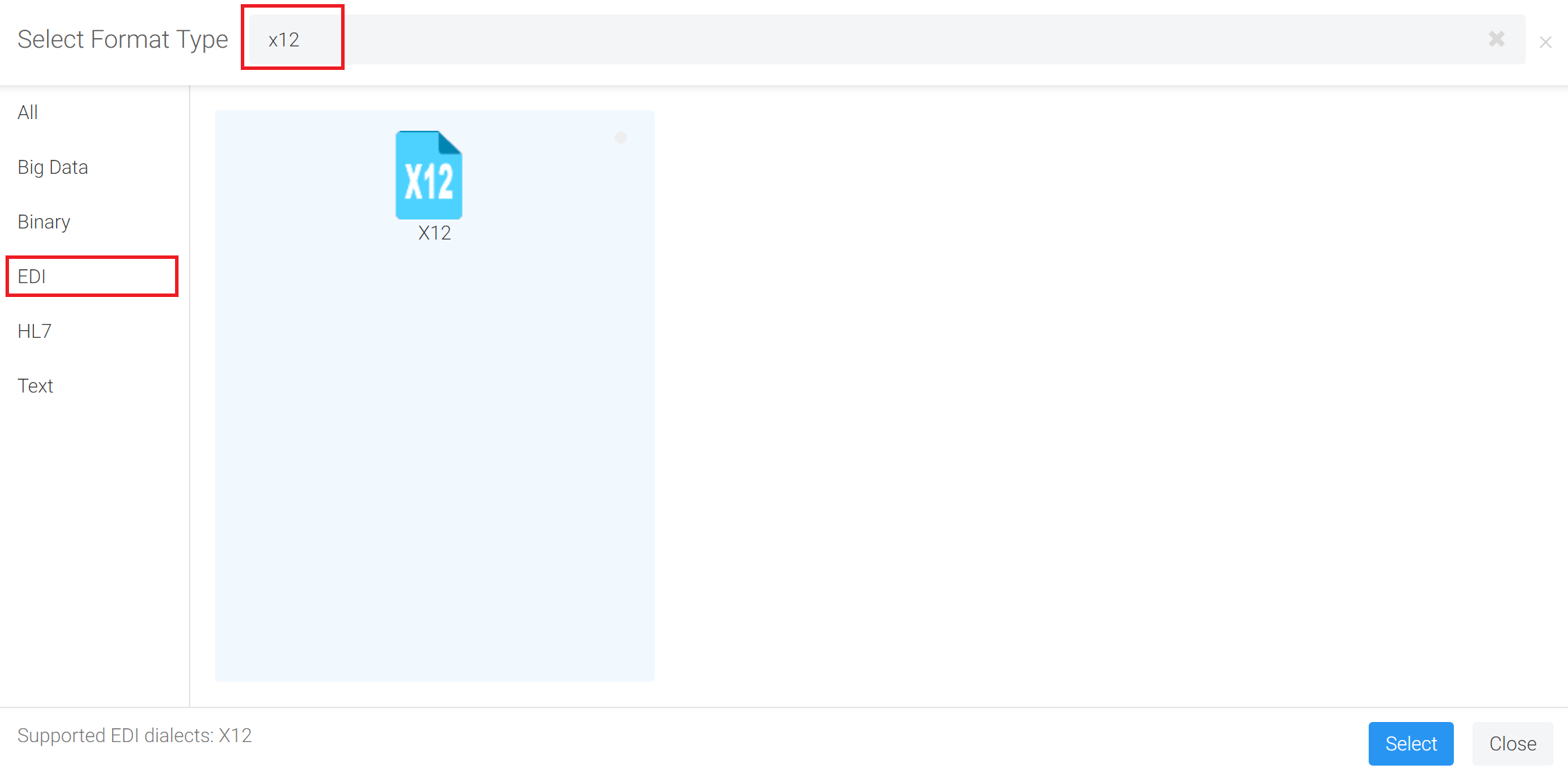 Below are the available parameters for the X12 and EDIFACT Formats:
EDI Version: X12 or EDIFACT version.
Transaction Set: the transaction set is used to provide a structure for transfer of EDI standards, or portions thereof, in an electronic form. IMPORTANT: The transaction set is required to create XML with human-readable fields, like FTX03_TextReference, so it is highly recommended to enter the correct transaction set of the file in this field. For example, for X12, it can be 204, for and for EDIFACT - INVOIC.
EDI schema: the name of the schema file. The schemas are used to assign human-readable names to the EDI segments. Etlworks EDI connectors can download schema files from the local storage.
Name of the XML file to convert EDI document to: if this property is set, the system will create a file with a specified name by converting the EDI document to XML. Read about saving an EDI file as XML.
Do not parse EDI document: if this property is enabled, and Name of the XML file is set the system will create an XML file but will not parse it. Enable this property if you want to convert EDI to XML without creating a dataset. Read about saving an EDI file as XML.
Strict schema validation: enables strict X12 or EDIFACT schema validation.
Enable cross-field validation rules: enables cross-field validation rules.

The EDI receive pipeline and EDI send pipeline can perform cross-field/segment validation on transaction-set data elements in X12/EDIFACT-encoded messages. This validation is called relational conditions in X12/EDIFACT.

Use long element names: determines whether to use long (human-readable descriptions) or short (codes only) element and segment names in your XML conversions (FTX03_TextReference or FTX03, for example). IMPORTANT: requires valid X12 or EDIFACT version and transaction set.
Include Empty Elements: determines whether to include empty data elements in a composite element.
Include Footers: determines whether to include footer information in the XML.
Component delimiter: the delimiter character to use to separate components.
Element delimiter: the delimiter character to use to separate data elements.
Segment delimiter: the delimiter character to use to separate segments.
Release character: the character to use to escape delimiters within values.
Repetition character: the repetition character.
Template: this is a template in the X12 or EDIFACT Format. If this field is not empty, the Etlworks Integrator will use it to populate column names and data types. The template is an optional field.
Preprocessor: JavaScript code that modifies the contents of the source document. Read more on how to use a Preprocessor.
Default Extension: the default extension is used when the file name doesn't have an extension. If not entered, x12 or edi (depending on EDI dialect) is going to be the default extension.
Column names compatible with SQL: convert column names to SQL-compatible column names by removing all characters, except alphanumeric and spaces.
Date and Time Format: a Format for timestamps (date+time).
Date Format: a Format for date (date only, no time).
Time Format: a Format for time (time only, no date).
Parse Dates: if this option is enabled, and the date or time value is not recognized as one of the formats defined above, the Etlworks Integrator will try to parse it using one of the well-known date+time Formats.
Trim Strings: if this option is enabled, the Etlworks Integrator will trim leading and trailing white spaces from the value.
Treat 'null' as null: if this option is enabled, the Etlworks Integrator will treat string values equal to 'null' as actual nulls (no value).
Encoding: XML document encoding. The default is UTF-8.