About Etlworks Integrator
Etlworks Integrator is a cloud-native, any-to-any, one-in-one ETL tool for all your data integration projects.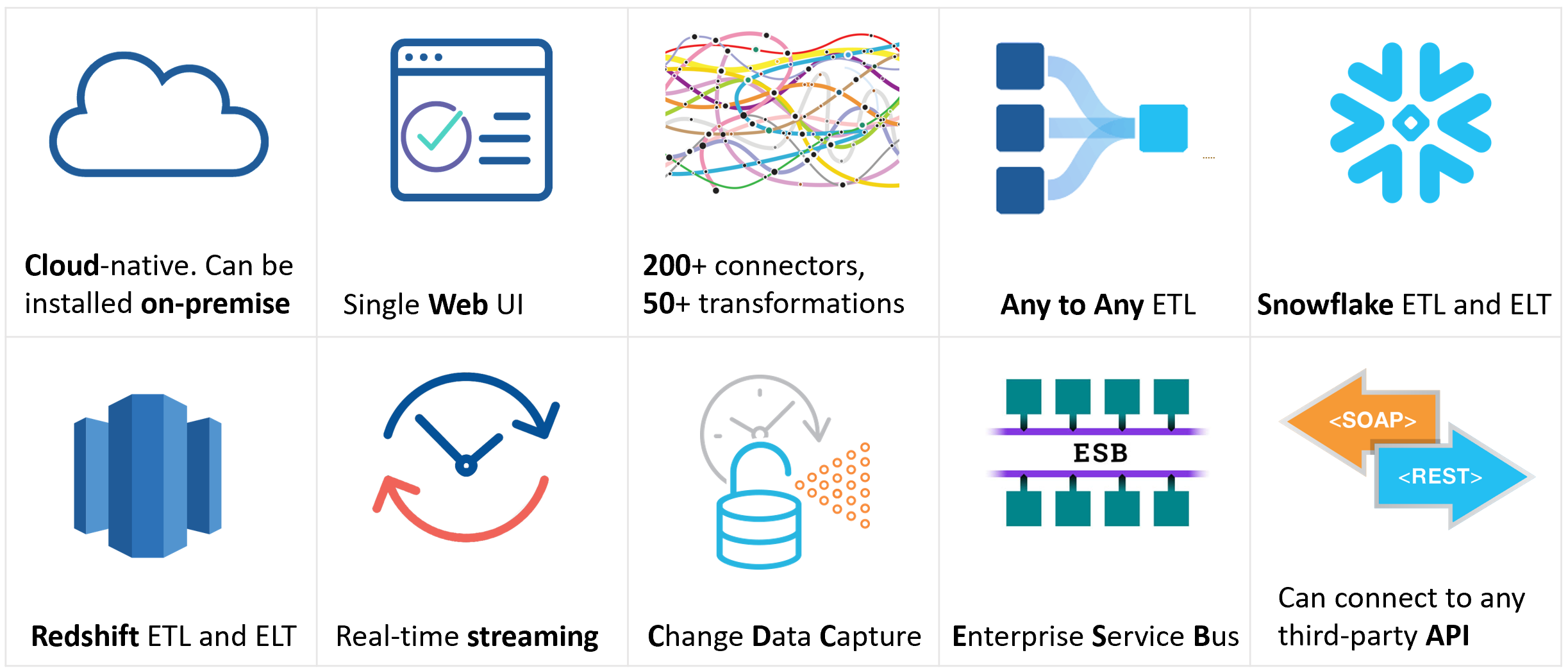 Compare features
Below is a comparison of the most popular ETL platforms and tools including Adeptia, Stitch, Informatica, Matilion, MuleSoft, Skyvia, Pentaho and Talend. Click the link next to the feature to read more.
Feature
Etlworks
Talend
Pentaho
Adeptia
Informatica
Skyvia
MuleSoft
Stitch
Matillion
Price starts from
$300
month
$1170
user
month
Inquire
Inquire
$1000
month
$15
month
Inquire
$100
month
$1.37
hour
Any-to-any ETL
Yes

Yes

Yes

Yes

Yes

No

No

No

No

Cloud deployment
Yes

Yes

Yes

Yes

Yes

Yes

Yes

Yes

Yes

On-premise deployment
Yes

Yes

Yes

Yes

Yes

No

Yes

No

No

Hybrid cloud
Yes

Yes

Yes

No

Yes

No

Yes

No

No

Desktop UI

No

Yes

Yes

Yes

Yes

No

Yes

No

No

Web-based UI
Yes

Yes

Yes

Yes

Yes

Yes

Yes

Yes

Yes

Multi-role team collaboration
Yes

Yes

Yes

Yes

Yes

No

Yes

No

Yes

Support for multitenancy for a single account

Yes

No

Yes

No

No

No

No

No

No

Large-volume performance
Yes

Yes

Yes

Yes

Yes

No

Yes

Yes

Yes

Graphical Data Mapper

Yes

Yes

Yes

Yes

Yes

Yes

Yes

Yes

Yes

Complex Transformations
Yes

Yes

Yes

Yes

Yes

No

Yes

Yes

Yes

Data validation
Yes

Yes

Yes

Yes

Yes

Yes

Yes

Yes

Yes

Split
Yes

Yes

Yes

Yes

Yes

No

Yes

Yes

Yes

Merge
Yes

Yes

Yes

Yes

Yes

No

Yes

Yes

Yes

Data partitioning
Yes

Yes

Yes

Yes

Yes

No

Yes

No

Yes

XSLT

Yes

Yes

Yes

Yes

Yes

No

Yes

No

No

SQL for non-RDMS data sources
Yes

No

No

No

No

Yes

No

No

No

File operations

Yes

Yes

Yes

Yes

Yes

No

Yes

No

No

Complex workflow

Yes

Yes

Yes

Yes

Yes

No

Yes

No

Yes

Scripting
Yes

Yes

Yes

Yes

Yes

No

Yes

Yes

Yes

Data synchronization
Yes

Yes

Yes

Yes

Yes

No

Yes

Yes

Yes

Real-time streaming
Yes

Yes

Yes

No

Yes

No

Yes

Yes

No

Change Data Capture
Yes

Yes

Yes

Yes

Yes

No

Yes

Yes

Yes

Scheduler
Yes

Yes

Yes

Yes

Yes

Yes

Yes

Yes

Yes

REST API
Yes

Yes

Yes

Yes

Yes

No

Yes

Yes

Yes

Flows as web services
Yes

Yes

Yes

Yes

Yes

Yes

Yes

Yes

Yes

ESB
Yes

Yes

Yes

Yes

Yes

No

Yes

No

No

Real-time triggers
Yes

Yes

Yes

Yes

Yes

No

Yes

No

No

Version control
Yes

Yes

Yes

Yes

Yes

No

Yes

No

Yes

Nested data formats
Yes

Yes

Yes

Yes

Yes

No

Yes

No

Yes

Flat data formats
Yes

Yes

Yes

Yes

Yes

Yes

Yes

Yes

Yes

EDI formats
Yes

Yes

Yes

Yes

Yes

No

Yes

No

No

Web services client
Yes

Yes

Yes

Yes

Yes

Yes

Yes

Yes

Yes

OAuth2,OAuth1,AWS auth
Yes

Yes

Yes

Yes

Yes

No

Yes

No

Yes

SaaS sources
Yes (150+)

Yes

Yes

Yes

Yes

Yes

Yes

Yes

Yes

RDMS
Yes

Yes

Yes

Yes

Yes

Yes

Yes

Yes

Yes

NoSQL
Yes

Yes

Yes

Yes

Yes

No

Yes

Yes

Yes

Direct load in Snowflake
Yes

Yes

Yes

Yes

Yes

No

Yes

Yes

Yes

Direct load in Amazon Redshift
Yes

Yes

Yes

Yes

Yes

No

Yes

Yes

Yes

Alerts and notifications
Yes

Yes

Yes

Yes

Yes

Yes

Yes

Yes

Yes