Startup
Business
Enterprise
On-Premise
Add-on
About Amazon MWS
Amazon Marketplace Web Service (Amazon MWS) is an integrated web service API that helps Amazon sellers programmatically exchange data on listings, orders, payments, reports, and more. Read more about Amazon MWS.
The Etlworks Integrator includes two connectors for Amazon MWS APIs:
Amazon Marketplace connector
Etlworks Amazon Marketplace connector allows fast, real-time access to MWS API. The connector works just like any other database connector.
Read about Amazon Marketplace connector.
Use Amazon Marketplace connector to:
Extract data

from the following data objects:

Orders
Order Items
Products
Report List
Inventory Supply
Inbound Shipments
Inbound Shipment Items
Feed Submission List
Feed Submission Result

Perform the following actions:
The MWS Feeds API Connector
MWS API is no longer a viable option API due to changes in the Amazon Marketplace and how the Tokens are supported in light of the MWS API being depreciated by Amazon. Please use the Amazon Marketplace connector instead.
Amazon MWS supports the management of seller listings for items to be sold on Amazon.com. Listings can be added, deleted, or modified with Amazon MWS. A variety of specialized feed Formats are supported to meet a wide range of seller needs. Read more about the Amazon MWS Feeds API.
Use MWS Feeds API to submit feeds to the Amazon Marketplace.
Connect to Amazon MWS Feeds API
Create a developer's account
To connect to Amazon MWS, a developer's account must be created and authorized. Please follow these instructions to register an account.
Create an Amazon Feeds API Connection
To connect to the Amazon Feeds API in the Etlworks Integrator:
Step 1. Open the Connections window and click +.
Step 2. Type amazon mws feed into the search field.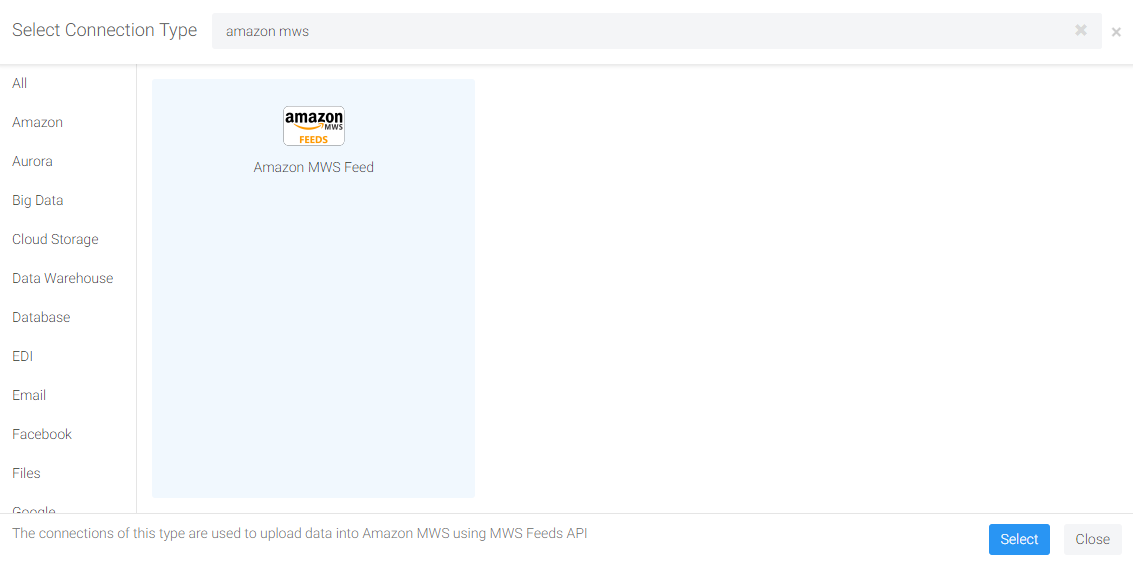 Step 3. Select the Amazon MWS Feed Connection and continue by defining the Connection parameters.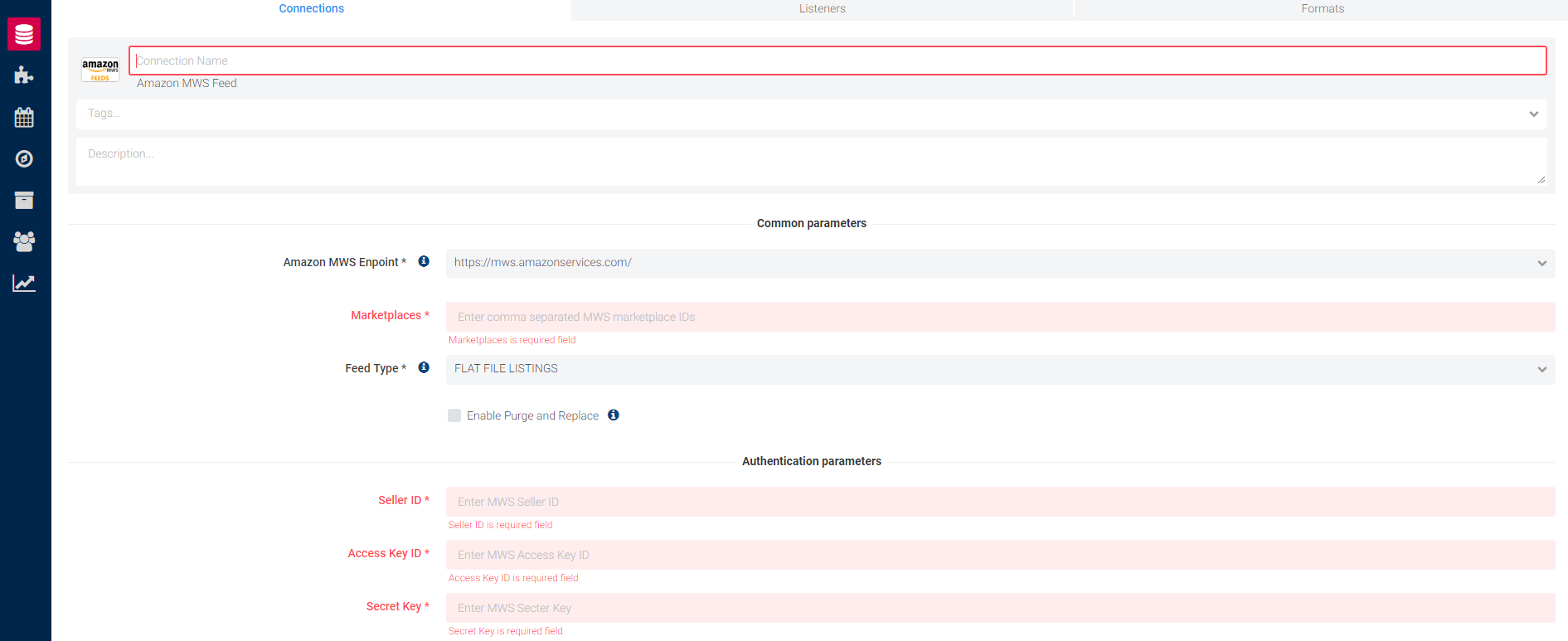 The following parameters are available:
Name: Connection name.
Amazon MWS Endpoint: one of the available region-based MWS endpoints.
Marketplaces: comma-separated IDs of the MWS marketplaces.
Feed Type: one of the available feed types.
Feed types with the prefix FLAT TILE require a TAB-delimited payload in a Format supported by the MWS Feeds API. Other feed types require an XML payload. Please read the Amazon MWS API documentation for more details.
Enable Purge and Replace: if this property is enabled, the entire listing will be purged and replaced with a new one, so please use this with caution.
Seller ID: a unique seller ID assigned by Amazon.
Acess Key ID: the developer's account AWS Access Key ID (user name).
Secret Key: the developer's account AWS secret Key (password).
Number of Retries: the number of retries allowed if the HTTP call to Amazon MWS was not successful. The maximum allowed number of retries is 10. The default is 0.
Delay between Retries: the delay in milliseconds between retries if the HTTP call to Amazon MWS was not successful. The maximum allowed delay is 5 minutes (300,000 milliseconds). The default is 0.
The parameters Number of Retries and Delay between retries can be used to combat the throttling enforced by Amazon.