Starter
Business
Enterprise
On-Premise
Add-on
About tenants
This function is only available to customers with dedicated instances.
Tenants are essentially sub-accounts under the main account. Each tenant has a separate list of users, Flows, Connections, Formats, and Listeners. Tenants are completely isolated from each other. For example, Flows created under tenant A are not visible to a user logged into an account that belongs to tenant B.
Create and manage tenants
To create and manage a tenant, open the Users window and click Manage tenants.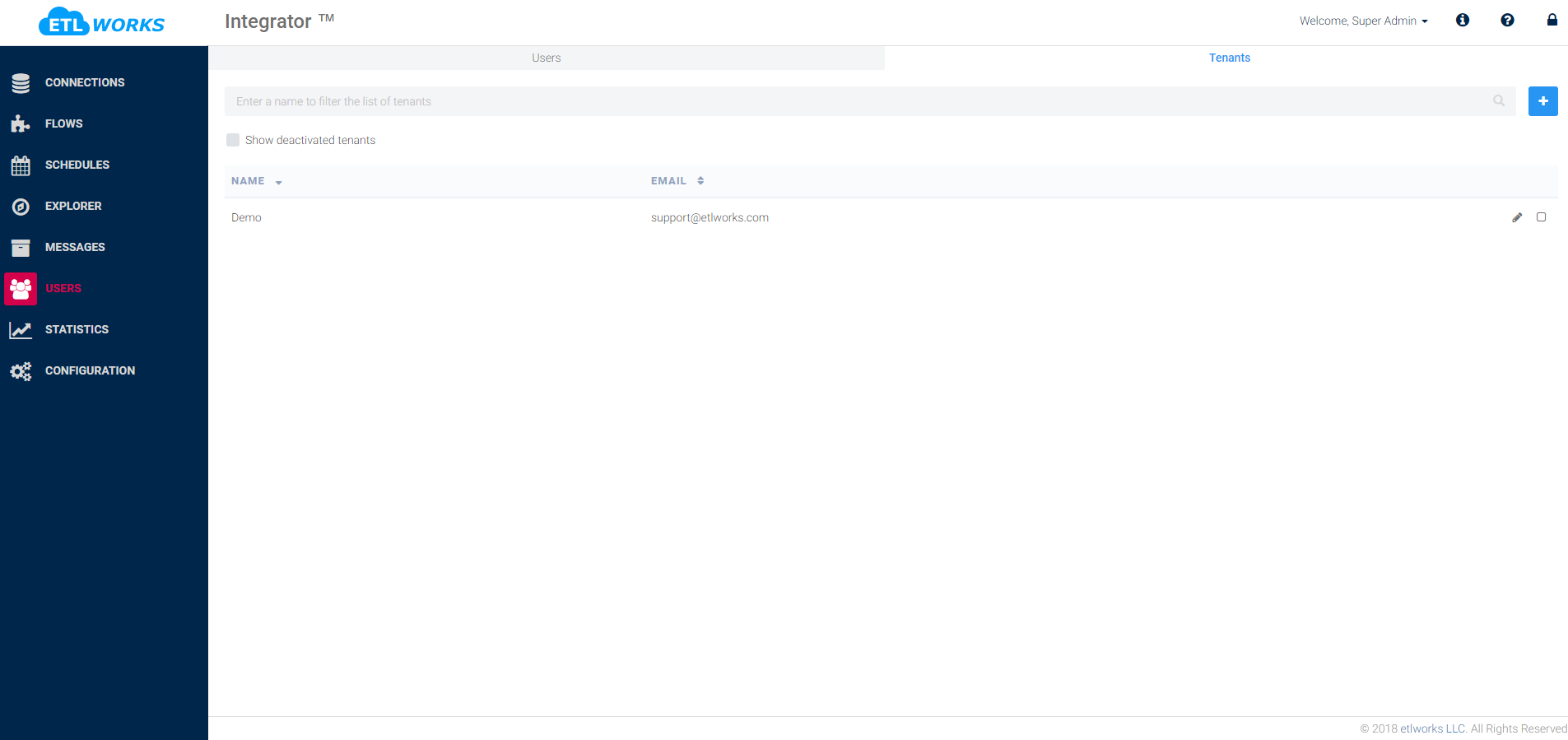 Manage tenants
To add a new tenant, click +.
To edit an existing tenant, click Edit.
To deactivate a user, click Deactivate.
Settings under the tenant, such as Color Theme, can override the global configuration.
Assign a user to a tenant
Admin and SuperAdmin users can create users under a particular tenant account.
A SuperAdmin user can reassign any user to a different tenant.
Log in as SuperAdmin.
Open the User Management window and select the user.
Change the tenant.

Switch tenants on the fly
In the SuperAdmin mode, you can see all Flows, Connections, Formats, and Schedules that are available for all users. In the Etlworks Integrator, it is possible to log in to a particular tenant on behalf of a SuperAdmin user.
This option is only available for a SuperAdmin user who is in an environment with tenants. Please send an email to support@etlworks.com or contact your system administrator for more details.
Switch the tenant
Log in to the Etlworks Integrator.
Click Welcome User at the top of the screen.
Click Tenant.
Select the tenant from the drop-down list and click Switch.

After the switch, the SuperAdmin user will be logged in to the Etlworks Integrator as a tenant Administrator. The tenant's name will be added to the Tenant link in the top menu.

Switch back to the SuperAdmin mode
Log in to the Etlworks Integrator.
Click Welcome User at the top of the screen.
Click Tenant.
Clear the selection.
Click Switch.