Creating and managing users
If you are an admin, you can create and manage users.
To create and manage users, open the Users window.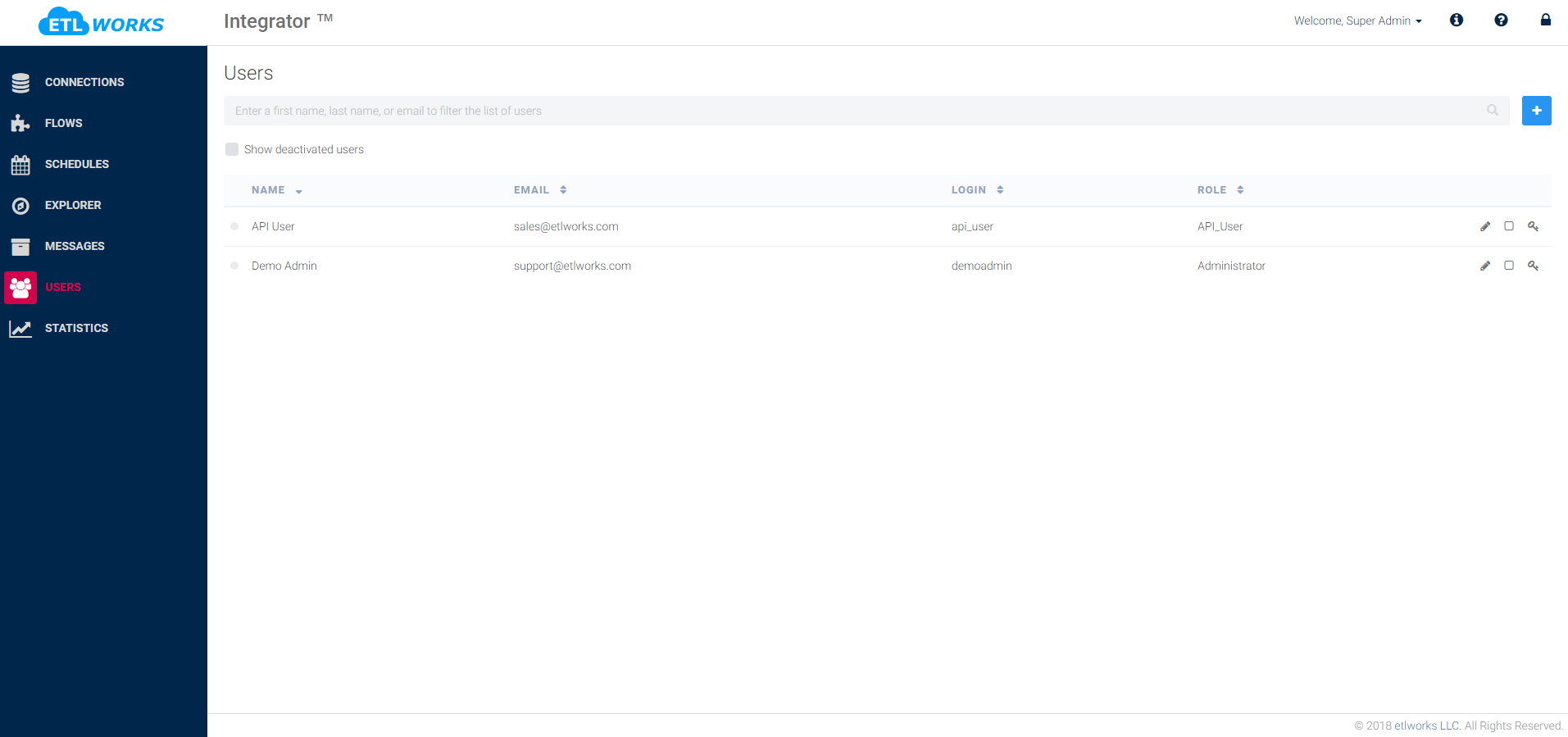 How to
To add a new user, click the + (Add User) button. Enter all required fields and click [Save] button. You must use a real email address to complete the registration.

When a new user's account is added by the system administrator, the invite is sent to the email configured for the account. The invite contains the temporary link that a new user must follow to complete the setup of the account.

To resent the invitation click the "Send new invite" link.

To edit existing users, click the Edit button.
To deactivate a user, click the Deactivate button.
To reset a user's password, click the Reset password button.
The users' profile

Roles and permissions
When creating a user, the following roles are available:
SuperAdmin - has unrestricted system access.
Administrator - has full control over data; can create, edit, delete, execute flows, connections, and formats and manage users.
Editor - the same as "Administrator", but cannot manage users.
Operator - can view and run flows/schedules and view execution statistics.
Viewer - can only view flows, schedules and execution statistics.
API User - a role for making authenticated calls to user-defined API endpoints (listeners) that sees nothing in the system except own API messages.
API users
This role must be assigned to the users that will be used to execute user-defined APIs.

API key
Optionally you can generate the API key, which is a not-expirable JWT token that can be used to authenticate the API user when making a call to the user-defined API.

Create API key
To generate or regenerate the API key click the regenerate API key button.

Revoke API key
To revoke the API key click the Revoke API key button
Copy API key to the system clipboard
To copy the API key to the system clipboard click the Copy API key to the clipboard button.

Show/Hide API key
To toggle between show/hide API key click the Show/Hide API key button.